EKO ATLANTIC'S 'GREAT WALL OF LAGOS' PASSES 6KM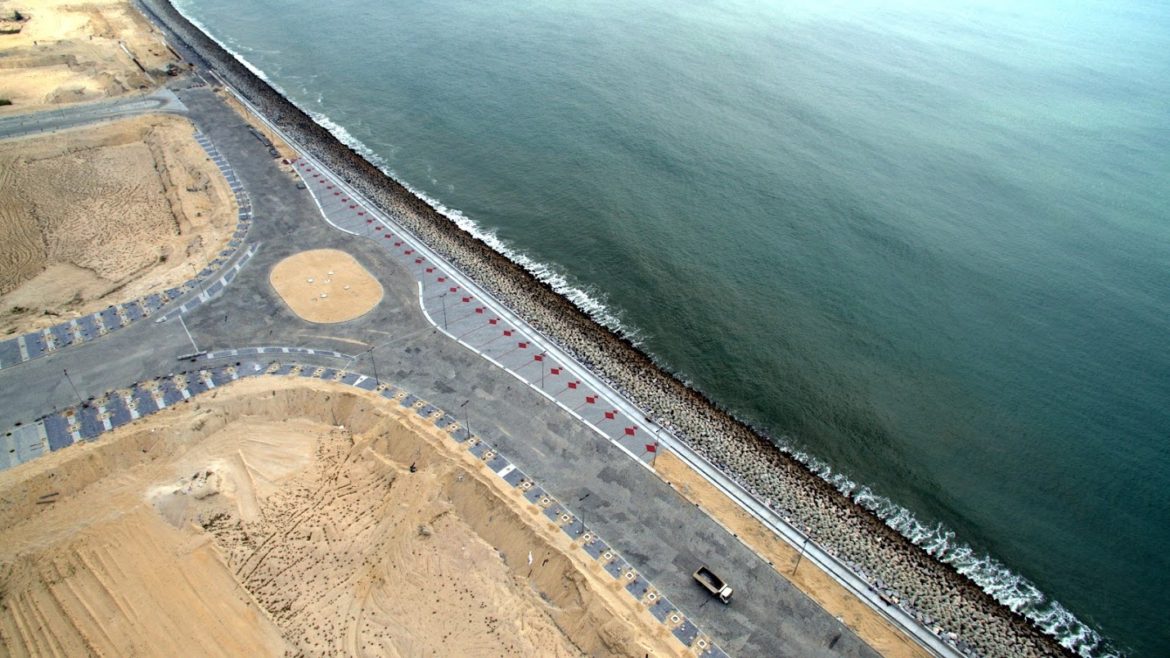 Lagos, Nigeria, March 21st 2017 – Eko Atlantic, a brand new city being built adjacent to Victoria Island, Lagos, announces the Great Wall of Lagos has surpassed 6 kilometres in length.
Construction of the Great Wall of Lagos, which can be seen from space, began in 2009. The wall, which will reach 8.5 kilometers upon completion, is a large sea revetment that protects the emerging new city, Victoria Island, and parts of Lekki from the threat of flooding due to coastal erosion and ocean surge.
"Various Nigerian and international searches show that the erosion rate of the Lagos coast, since as far as back 1910's, when the record began, has been in the order of 2 to 10 meters per year" says Daniel Kamau, Managing Director, Royal Haskoning Engineering Consultants, the appointed marine engineers for the Eko Atlantic Project. "The land where Eko Atlantic is being built existed historically, but has eroded over a long period. Eko Atlantic will restore some of the land lost to the sea and protect it from erosion," he concluded.
The revetment uses a proven method of accropode units as primary armour for the structure. Each accropode is made on site and weighs 5 tons. 100,000 accropodes will be placed in a predefined grid, using a GPS system for pin-point accuracy.
The basic principles of revetment, as a proven engineering solution for river and coastal protection, have been used for centuries, if not millenniums, around the world. The sea wall is designed and tested to handle the worst storms in hundreds/thousand years, putting into consideration global warming and rising sea levels.
As the final step to the Great Wall of Lagos, a 8.2 kilometre long, 12.5 metre wide, promenade will be built on top of the Great Wall. This promenade will provide a tremendous amount of recreational space to residents looking to take advantage of the ocean front open area and impressive ocean view.
"When finished, the Great Wall of Lagos will ensure that everyone living and working within the ten square kilometres of reclaimed land for Eko Atlantic, Victoria Island, and parts of Lekki are protected from the sea." says Mr. David Frame, Managing Director, South Energyx Nigeria Limited.
Furthermore, it should be noted that approximately 8km of coast adjacent to the east of Eko Atlantic has been protected by construction of 18 rock groynes by Lagos State Government as their ongoing program to protect the coastline of Lagos State from coastal erosion. Eko Atlantic and the groynes protect a combined 16km of Lagos coast, including a majority of coastal communities in Lagos, which were previously subjected to severe flooding and erosion.