Eko Atlantic: A Vital New City Reclaimed from the sea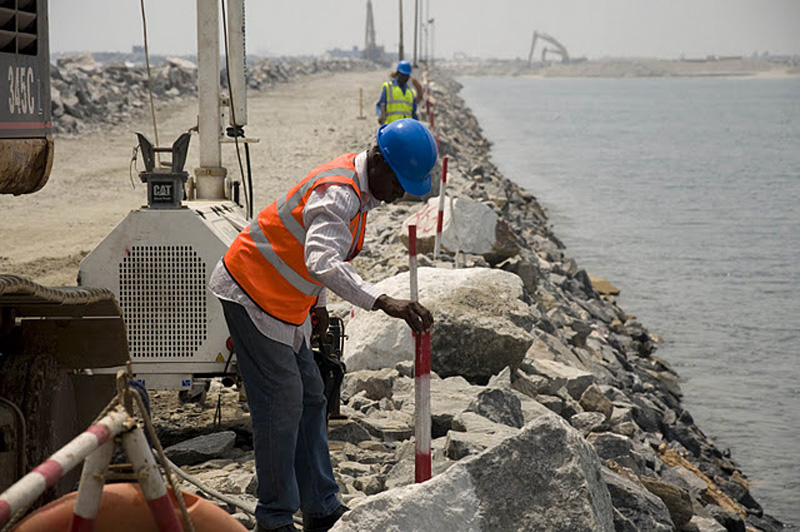 With the continuing emergence of Eko Atlantic City off Victoria Island, Lagos could soon be competing for attention on equal terms with other better-known destinations on the financial, real estate and leisure maps. Island Explorer met with David Frame, managing director of South Energyx Nigeria, the company responsible for bringing the project to life.It's been a long time coming but the 10,000,800m2 land reclamation project is growing bigger by the day just off the shores of Bar Beach, Victoria Island. The all-important process of constructing a sun breaker called the Great Wall of Lagos began in 2008. The sea defense works will project Victoria Island and the Eko Atlantic project against the Atlantic Ocean's worst predicted surges, and reclaim the land that had over many years been lost to the encroaching Sea.
With the help of a purpose built €203m Belgian dredging vessel called Congo River, the dedicate process of exercising sand from the sea bed has now entered its second phase. The first phase reclaimed 2.7m square metres of land and was finished earlier this year.
As David Frame walked us through the development be shared the inspiration behind it, the challenges in executing such a herculean task and what we can expect to find on Eko Atlantic.
Our vision for Eko Atlantic is a city for the 21st century: a city that could hold its head high anywhere in the world. "says Frame. "You will see here a project of international quality that will, in turn set its own standard for comparison." Reflecting on the infrastructure development opportunities. Frame adds, All of the utility services- electricity, water drainage, IT services – on Eko Atlantic will be below ground level and security and transportation systems, as well as an independent source of energy will be generated specifically for the city."
Intelligent planning
Eko Atlantic is set to be a hotbed of culture, with cafes and restaurants, boutiques, malls and recreational centers. Interestingly, downtown Los Angeles was one of the cities that was examined when planning the project, says Frame.
"When we were designing Eko Atlantic, we looked at similar development plans around the world, and we found the re-development of downtown Los Angeles very interesting" Explaining further, he said. "There was a situation in the financial district where it was very active during the day, but became a no-go area after dark. Because of this problem, the authorities decided to re-develop the area to create a certain level of activity all round the clock. They achieved this by including restaurants and bars in the development. As a result, rather than becoming a no-go zone after 7pm, it becomes a very attractive area of the city. We decided, therefore to use that concept of redevelopment, encouraging investors in the project to think about what lends itself to 24-hours activity."
The project will also look to tadde Lagos well documented vehicle and human congestion, explain Frame. "There will be ample parking driving and pedestrian space." He says. "In fact, it will be illegal to park on the streets, and all buildings must provide sufficient parking for their needs as well as the demand of visions and a 30percent provision for expansion in the future. There will also be OCTY monitoring for traffic and road violations, all of which will ensure that Eko Atlantic runs smoothly and freely."
Work is also under way to create a 12m-wide promenade along the Atlantic coastline, an ideal location for recreational activity.
An investor's dream
Eko Atlantic will serve as more than just a commercial built. It is expected that 250,000 residents and 150,000 commuters will flow into the new city each day, presenting a golden opportunity for real estate developers and anyone seeking to move outside the highly congested Lagos metropolis.
Eko Atlantic will do more for the nation than just boosting its tourism industry. Around 150,000 jobs have been created since construction began and further manpower will inevitably be required to maintain such an enterprise. There are also substantial opportunities for economic investment for small, medium and large scale businesses.
By creating what will be first-class infrastructure of international standard. Many financial institutions will look to service their headquarters in Eko Atlantic, with the potential for the site to become the financial hub of Africa.
To ensure the success of these investments, however, public awareness is critical. "We want to keep the public aware of the development and inform them of the progress we're making on a regular basis." Says Frame. "We want them to understand that it will benefit not only Lagos but Nigerian and West Africa as a whole."
The construction of Eko Atlantic is an architectural dream that will help relieve pressure on Victoria Island. The rise of this vital new development for Lagos has now begun with construction of the first residential tower block along with the first access road.
Eko Atlantic is more than just a dream. It is now a reality.