A City Rising from the sea – The Dazzling Eko Atlantic Project in Nigeria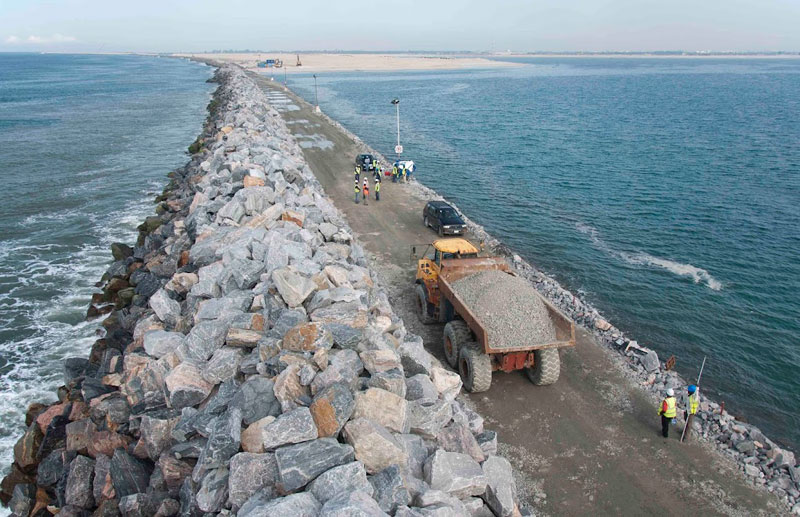 Volvo Spirit Magazine, December 2013
Imagine a Megopolis rising, Atlantis-like, from the sea.
An urban development similar in size to Manhattan that boasts thriving business and residential districts helps transform not just a city but an entire country. It sounds like the stuff of science fiction. But the Eko Atlantic project in Lagos, Nigeria, is real and has become one of the most dazzling and most discussed construction developments in the entire world.
One hundred years ago, the area of land on which the new city will be built was beach, but time and Mother Nature had erased all but a trace. The coastal erosion had become so serious that Victoria Island, a suburb of Lagos, was in danger of serious flooding, and it was feared that those who lived near the water's edge would be forced to leave their homes. Steps were taken to protect the shoreline, but then a grander plan emerged: to reverse the erosion, reclaim 10 square kilometers (4 miles) of land and build a clean and eco-friendly city that would help ease the burden on Lagos, the biggest city in Africa's fastest growing economy, and offer employment and opportunity to its 17 million citizens.
Work began in 2006, dredging the first few thousand of what will eventually be approximately 140 million tones of sand making it currently the biggest land reclamation site in the world. Soon the foundation for the first buildings will be sunk, and by 2015 the skyline will start to change.
To ensure the Atlantic Ocean does not return for what it ones stole, the developers have designed an 8km-long (5-mile) barrier to keep the sea at bay. This has become known as the Great Wall of Lagos and is being built on the same place as the water's edge 100 years ago.
Each day for the past two years, a fleet of more than 150 vehicles, 50 of them Volvo trucks, have driven the 161km (100-mile) return journey between the job-site and granite quarry at Ibadan from dawn to dusk to deliver 700,000 tonnes of stone. These are piled 15 metres (42ft) high and topped with concrete accropodes, huge geometrical objects designed to resist waves on coastal structures.
The scale of the work is staggering. So much concrete is needed that the site has its own factory to produce it, and the project employs more than 1,200 staff directly linked to the construction of the project to operate and maintain the excavators, haulers and other machinery.
By far the biggest supplier of machines, with more than 40 on site and several more at the quarry digging and moving rocks, is Volvo. At Eko Atlantic, there are excavators digging trenches for drainage and sewage, haulers moving rocks and sand, even a motor grader to maintain the roads on the site.
The operators and other staff have to work in searing beat, with temperatures often topping 40 degrees centigrade (104oF). This can cause choking clouds of sand and dust, though a specially adapted A25 hauler fitted with a water tank helps dampen and cool the sand to prevent such build-ups. Then, in the rainy season, they have to work in lashing rain and torrential storms. It is tough work, but thanks to their efforts the shape of a new land has emerged where once there was water.
When Volvo spirit visited the site in April, the wall was almost 4,000 meters (13,123ft) long, growing by three meters each day. At its furthest point, where the road ends and the waves lash against the rocks, a sole EC460BLC Volvo excavator's battle with nature, tasked with settling the stones that form the wall's core. This remarkable machine, which has carried out 5,400 hours of work in two years without any unplanned downtime, has a claim to be the toughest working excavators in the world.
George Tawk, the group plant manager at Eko Atlantic, is full of praise for the performance of his Volvo fleet and the EC460BLC in particular. "Where that machine works is a very difficult area. You have to deal with rocks, sand, salty water and salty air. All these factors create lots of damage to a machine. But with good support and a thorough maintenance schedule, that machine has coped.
"The EC406BLC is a fantastic machine. It is very smooth and agile, and it works quickly and efficiently." Working in Africa, in the extreme heat and dusty environments, present special challenges for all machines, but Volvo machines are equal to the task. "In Africa you need a customized, tropicalized engine that can handle the heat and the weather. Volvo machines have those engines. It is rough handling here," George adds.
The machines have been supplied by the Volvo dealer in Nigeria, ATC-Nigeria. "We use Volvo machines because in Africa, support is absolutely crucial, and I get that support from Volvo. When I need that support, wherever I might need it, I get it. Believe me, you can use the best machine in the world in Africa, but if you don't have support then it doesn't matter- you are nowhere. You need a dealer and a company that stands by you when you need them and gets you the parts that you need and the machines that you need, even in the remotest of places. Volvo and ATC-Nigeria give us that."
With Volvo's help the busy, cramped city of Lagos is getting a development of which it is rightly proud, a stunning new district that will provide work and housing for generations to come in this city on the sea.