West Africa's first beach polo tourney zooms off at Eko Atlantic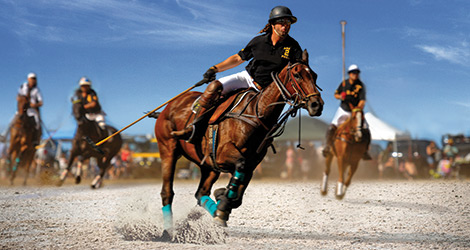 New Telegraph, March 19th, 2015,
By: Editor
West Africa's first beach polo tournament will begin today at the Eko Atlantic, the organisers have confirmed.
The event, being organised by the Lagos Polo Club and Eko Atlantic, will be held over three days with a number of Nigerian teams participating in a round robin tournament.
According to the organisers, every team will play every other team in their pool once, a format that allows for a wide variety of opponents as each team would be equally as involved as opposed to a knock out competition.
In a release by the organisers, "each of the four teams in the pools would progress to the finals, which would take place on the final day; pool winners will compete for the main cup, runners up would play for the plate, third place will play for the bowl and the last place will play for the shield. This format will guarantee each team four matches, as well as games on each of the three days of competition."
Entrance to the Eko Atlantic beach polo tournament will be strictly by invitation, the organisers said, adding that an invitation will be printed for each day of play to ensure guest numbers are controlled and avoid overcrowding with a maximum of 1,000 invites being distributed for each day of play.
"At our event, you can expect to meet business tycoons, company executives and directors from multi-nationals, as well as indigenous companies. These companies range from oil & gas, manufacturing, agriculture, real estate, banking & finance, telecommunications and several other notable industries," the organisers revealed.
Source: http://guardian.ng/sport/west-africas-first-beach-polo-tourney-zooms-off-at-eko-atlantic/