Two Millions Square Meters Land Reclaimed For Eko Atlantic
The developers of the Eko Atlantic City in Lagos said they have reclaimed more than two million square meters of land.
The developers, who made this known in a statement made available to The PUNCH on Thursday, said the new land would provide space for the business district, which would become a financial gateway for Africa.The Eko Atlantic development, a new city sited on the Atlantic Ocean front adjacent to Victoria Island in Lagos, will be divided into six districts, which will offer multiple investment and development opportunities, the statement explained.
The developers said they planned to reclaim nine million square meters from the ocean,
adding that the land would be used to build a self-contained city that would provide the quality of infrastructure and services required to make Lagos the financial hub of Africa.
The statement said, "Land for Eko Atlantic is growing at an average rate of 10,000 square meters each day.
"The Phase One Business District comprises 2.5 million square meters of new land that will be ready by April 2011."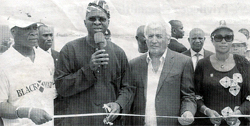 The statement quoted the Managing Director of South Energyx Nigeria Limited, David Frame, as saying that the land that was in place would go through a major transformation.
He said new roads had been created to allow access for construction vehicles.
Frame however added that Eko Atlantic's business district would become a home to numerous financial institutions. He said a new stock exchange, shopping malls, conference centers and hotels would be part of the development plan.
L – R: Commissioner Waterfront & Infrastructure Development, Lagos State, Mr. AdeSegun Oniru, Governor of Lagos State, Mr. Babatunde Raji Fashola , Chairman, South Energyx Nigeria Limited, Mr. Ronald Chagoury; and Action Congress of Nigeria candidate for Lagos Central Senatorial District , Mrs Oluremi Tinubu at the inauguration of Eko Atlantic City Achieves Milestone Two Million Square Metres of Reclaimed Land, in Lagos…on Wednesday.


By Kunle Falayi, Punch