Eko Atlantic City developers hasten project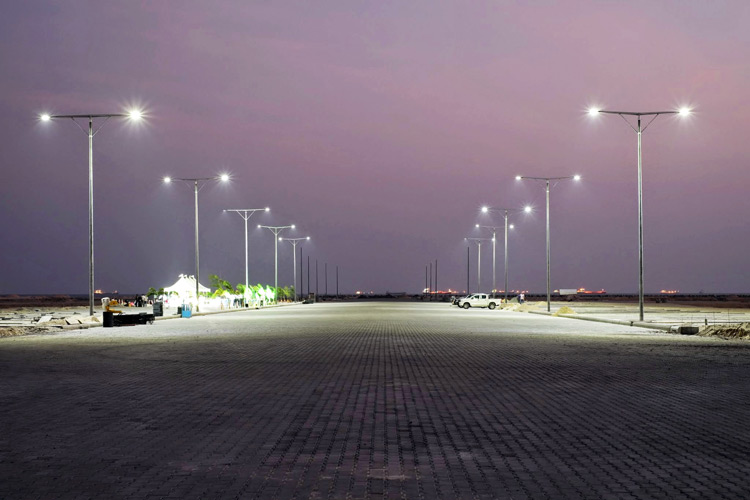 UPDATE City illuminated as first skyscraper ready by Feb. 2016
The potential and wouldbe investors of the multi-billion naira Eko Atlantic City project are in for good times, as a section of Eko Boulevard, the first paved road in the emerging city is now being adorned with streetlights. Even as the developers forge ahead with infrastructure development of the emerging city, its residential and commercial tower blocks under construction can now clearly be seen from Ahmadu Bello Way on Victoria Island and the Marina on Lagos Island.
The Eko Atlantic's road system including other utilities is rolling out, but this is the first time any of the internal city route is being lit. Speaking with selected journalists in Lagos, the Managing Director of South Energyx Nigeria Limited, the city's developers and city planners, David Frame, said that the company is giving priority to infrastructure development such as road, drainage, power supply and transportation so that there would be connection when all the buildings under construction in the city are completed.
He stated that the city when completed would be self-sufficient in terms of power and energy supply, adding that it would be powered by Independent Power Project (IPP). According to him, all electric cables oin the city would be buried. He expressed satisfaction with the street lighting, which he said has come on to represent another important step in the successful development of Eko Atlantic city. Frame assured that the first row of lights along Eko Boulevard, a paved 8-lane thoroughfare that is over a mile long, being the spine of the Business District, would be extended in the new year as they (developers ) forge ahead with infrastructure development.
Concrete block paved roads, spacious sidewalks and kerbs are being built in the first and second phases of the emerging city. "The project development area is now so large and progressing so quickly that it won't be long before we need internal road signs to drive around," said Frame. To date, frame explained that 10 per cent of Eko Atlantic's roads in Phase 1 and 2 have been paved while 32 per cent have stone-base in place, providing access to motor vehicles.
Furthermore, he stated that 25 per cent of the roads were defined with kerb lines; 56 per cent of storm water drainage installed along with 34 per cent of state-of-the-art communications. Others are 50 per cent of the sewage distribution network established and 36 per cent of the water supply network, which have been completed to date.
He told journalists that first 15-storey tower in the city woul be ready for occupation in first quarter of 2016 as the project is in advance stage of completion, adding that one of the Eko Pearl Towers would also be ready He disclosed that Messrs Dar Al-Handasah, an international engineering company was responsible for the development of all infrastructure in the new city Eko Atlantic, an emerging city in Lagos, is rising on reclaimed land from the Atlantic Ocean and, according to its developers, it is a 21st Century city that will compare with United Arab Emirates city of Dubai.