Eko Atlantic City: 2.4m sqm of land already reclaimed
South Energyx Nigeria Limited, a subsidiary of the Chagoury Group, said it has so far reclaimed 2.4 million square metres of land in the nine million square metres Eko Atlantic city land reclamation exercise.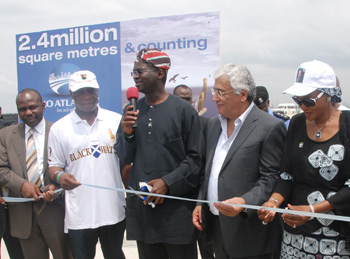 The company which was specifically created to undertake the development said the city, which will be divided into six districts, will offer multiple investment and development opportunities through its strategic plan to reclaim nine million square metres of land from the ocean. Speaking during a familiarization tour of the site, Lagos State Governor, Mr Babatunde Fashola, said it is the state's vision to build a self-contained city that provides the quality of infrastructure and services required to make the state the financial capital of Africa.
According to him, "We are reclaiming and restoring the geographical territory of Lagos State and by extension the Federal Republic of Nigeria. We are reclaiming the land that has been lost to the Atlantic Ocean and uncontrollable erosion that has now been brought under control.
"For many who might not know, during the rains of 2007 there were waves here as high as 70 metres and were buffeting this coast line. For the Great Wall of Lagos, the wall in front of us here today protected Victoria Island and Ikoyi and the residents in Lagos from being submerged by flood, and it is still work in progress. This will be the wall that will ultimately defend this Island from the Atlantic Ocean. We will work this stock with our partners. The future is clear to us as it should. This will be a new city on the coast. The city will run and operate like any other city in the world: 24-hour electricity; new business centre; housing accommodation "very efficient and reliable".


By Princewill Ekwujuru, Financial Vanguard