Lead Story Low supply, demand in Eko Atlantic scheme drive land prices higher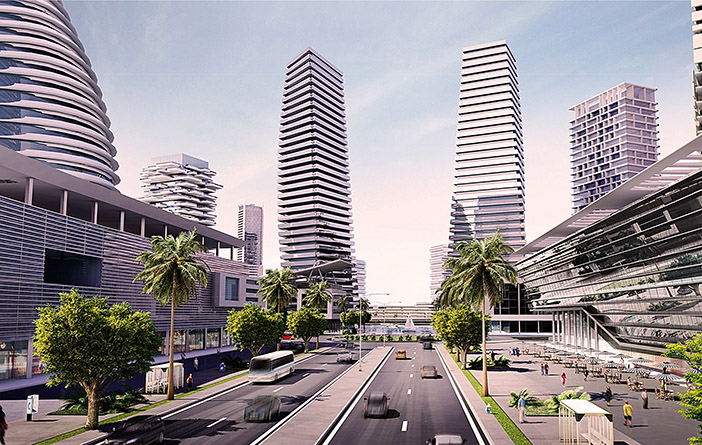 By Chinedu Uwaegbulam; on 21 June 2015
QUIETLY but steadily, foundations of a new city are emerging off the shores of the famous Bar beach in Lagos, after whitish sand-water mix was churned out of giant underwater pipes from the Atlantic Ocean for what is apparently the most ambitious and comprehensive mixed use development plan to come on stream in the West Africa sub-region in recent times.
Eko Atlantic City is not a common place for plots — it's a haven for the super rich and corporate bigwigs. Current land prices in this exclusive enclave are now U$1,800 per square metre for inner city plots while plots located along the road and waterfront are significantly higher at US$2,500 / sq. m and US$3,000 / sq. m respectively 
The project known as Eko Atlantic City stretches further by the day into the Atlantic Ocean, adjacent to Victoria Island in Lagos, under Public-Private-Partnership (PPP) initiative between the Lagos State Government and a private concern Messrs South Energyx Nigeria Limited, developers and city planners.
It will spread across seven districts, comprising residential, commercial, financial and tourism developments. Modeled after the skyscraper district of Manhattan Island in New York City, it is expected that the new city will be home to no fewer than 250,000 residents, with commuter volume expected to exceed 150,000 people daily.
The development activity is in full swing as several real estate development firms have moved to site and are jostling to get ahead in the race with their respective developments. The uniqueness of Eko Atlantic is that the residential units will be constructed as vertical high-rise apartment towers due to limited space for the traditional single family detached units, which was not included in the original master plan.
According to data released by Residential Auctions Company (RAC), there are already over 1,000 units of apartments of various room sizes ranging from one bedroom to four bedroom penthouses already under construction.
High- rise developments will provide just slightly over 560 apartment units with one tower completely sold out and the first set of units will be delivered as early as 2016.
Leading the pack of these developments are Eko Pearl Towers by ESLA International. Eko Pearl Towers are high-rise residential buildings to be located in the centre of Eko Atlantic City. It will comprise of five stunning residential towers on the harbor of Eko Atlantic.
The towers are; White Pearl Tower, Black Pearl Tower, Indigo Pearl Tower, Champagne Pearl Tower and Aqua Pearl Tower.    Another high-rise development currently under-construction is Eko Energy Tower Estate being developed by oil and gas logistics firm, Orlean Invest West Africa, a Nigerian group with over 25 years of providing corporate and real estate services.
Eko Energy Estate is a premium residential neighbourhood that will cover approximately 450,000 square meters of land and will be located in the Northwestern corner of Eko Atlantic City.
Unlike other residential developments in Eko Atlantic City, Eko Energy Estate has been carefully conceived by its planners to provide an unrivaled living experience to future residents with residential towers that adapt easily to client requests to create custom apartments coupled with integrated recreational and service facilities, guaranteed infrastructure and state of the art security.
The first phase of Eko Energy Estate will consist of three high-rise 20 floors residential towers that will provide about 260 apartment units of various number of bedrooms as illustrated above and is expected to be delivered by 2018.
It is projected that by the full completion of Eko Energy Estate there will be circa 5,000 apartments in 50 – 60 residential towers. Other notable residential developments currently in the works in Eko Atlantic City are Lagos Sky Tower, LeReve Tower and Azuri Peninsula.
Right from the onset land and property prices in Eko Atlantic was set to break records as initial land prices ranged from US$1,000 per square meters. Currently, due to fast growing interest especially from international firms land prices have risen strongly over the years. Investigations show that land values in Eko Atlantic rose by as much 40 per cent in capital appreciation.
In its report, RAC says that most of the land in the primary market has been virtually sold out and there is high transaction activity in the secondary market. Current market prices show that land in this exclusive enclave are now U$1,800 / sq. m for inner city plots.
Prices of plots located along the road and waterfront are significantly higher at US$2,500 / sq. m and US$3,000 / sq. m respectively.
At the prevailing market rate, land prices in Eko Atlantic City have risen in value by as much 85 per cent since the project inception. The average price for a two bedroom apartment in one of the high rise towers currently under construction in Eko Atlantic City was selling for US$853,750 (N168, 188,750) and for a three bedroom apartment in the same tower US$1,010,000 (N198, 970,000).
Similarly, the average price for a two bedroom apartment in another high-rise tower was selling for US$896,750 (N176, 659,750), a three bedroom apartment in the same tower US$1,070,833 (N210, 954,167) and penthouse US$2,586,667 (N509, 573,333).
Further analysis reveals that the average price for a two bedroom unit per sq. m assuming a living area of 135 sq. m would slightly exceed US$6,300 / sq. m (N1, 245,843 / sq. m) in Eko Atlantic while the average price of a three bedroom unit per sq. m assuming a living area of 200 sq. m would be US$5,000 / sq. m (N994, 850 / sq. m).
Read more: http://guardian.ng/lead-story/low-supply-demand-in-eko-atlantic-scheme-drive-land-prices-higher/