Eko Atlantic Applauded as Pinnacle Project in Nigeria at Premier Real Estate Event in France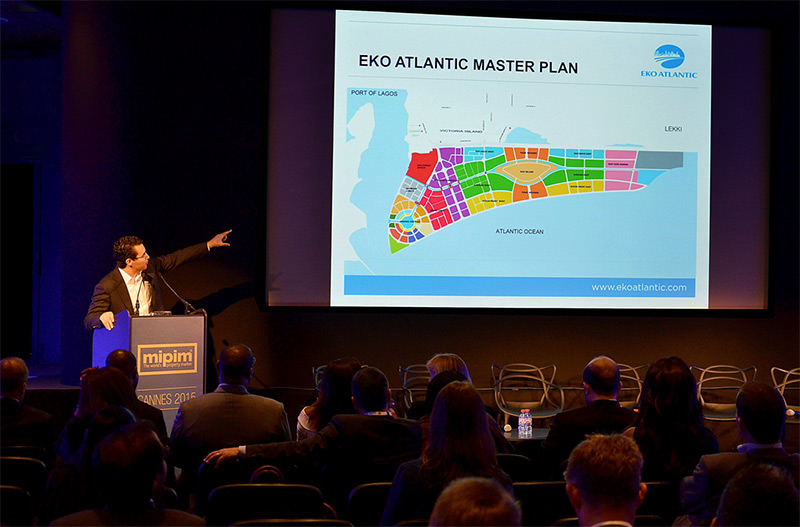 The developers and city planners of Eko Atlantic city in Lagos, Nigeria presented a specialised Case Study of the project to an audience of real estate experts and investors at MIPIM, the world's leading property market that is held every year at Cannes in the South of France.
The four day MIPIM event brings together the most influential players from all property sectors – office, residential, retail, healthcare, sport, logistics and industrial, offering unrivaled access to the greatest number of development projects and sources of capital worldwide.
Speaking to a well-attended workshop session addressing real estate development in Sub-Saharan Africa, Ronald Chagoury Jr. the Vice Chairman of South Energyx Nigeria Limited, the promoters of Eko Atlantic, said it was now time for international companies to take a much closer look at investment potential in Sub-Saharan Africa, especially Nigeria.
He told the audience, 'If you can just get over some of the perception issues for Nigeria and if you can look at the market as it actually is, you will automatically have an advantage over everyone else.'
Nigeria is now the continent's largest economy and has a rapidly growing population. "We have a need for everything,' said Mr Chagoury. 'The key ingredients for success are being present, consistency and quality.'
Delivering a presentation called 'Sub-Saharan Africa – Let There Be Light', Mr Chagoury explained that the real-estate sector was desperately short of housing. 'We have a shortage of 16 million homes in Nigeria with a shortfall of five million homes in Lagos alone', he said.
The workshop heard that Eko Atlantic will total ten million square meters of land reclaimed from the sea that will become home to 250,000 residents with 150,000 commuters.
'For a lot of people that were here today it was pretty eye opening to see the scale and ambition of the project and I think that Eko Atlantic should almost become a marketing tool for the potential of real estate in the country because it is such an outstanding example, said Mark Bradford, Chairman of JLL for Sub-Saharan Africa. 'It's the pinnacle really of ambition on the continent and definitely something that more people should get to learn about'.
Eko Atlantic's developers say that ninety per cent of the infrastructure will be completed by the end of the year.
'Eko Atlantic is one hundred per cent privately funded. It is a registered Free Zone', said Mr Chagoury. 'Eko Atlantic will have reliable 24/7 utilities such as an independent natural gas power plant, independent water and sewage treatment plants, and a state-of-the-art fibre optic network.'
It was the first time that the organizers of MIPIM have focussed on the investment opportunities in East Africa (Kenya, Tanzania and Uganda), and West Africa (Angola, Ghana and Nigeria).
'It was one of the few times I have seen people focussed on the positives of Sub-Saharan African other than all the normal issues of conflict, corruption and fraud.' Said John Okonkwo, the Managing Director of Projects Ducain Forbes Ltd.
'There is no doubt that the international momentum now is in Africa's favour'.
The workshop was designed as an interactive 'How to' toolkit for anyone looking at the region: investors, developers, brokers, consultants, service firms and hotel and tourism operators.
'Eko Atlantic is in part showcasing what is possible in Africa', said John Okonkwo from Projects Ducain Forbes Ltd. 'It showcases that very large ticket investments can be done successfully at an international quality standard in Africa'.
Source: https://www.facebook.com/EkoAtlantic/posts/1002082383135579