Dalung commends 2016 Beach Soccer AFCON Committee – TV360 Nigeria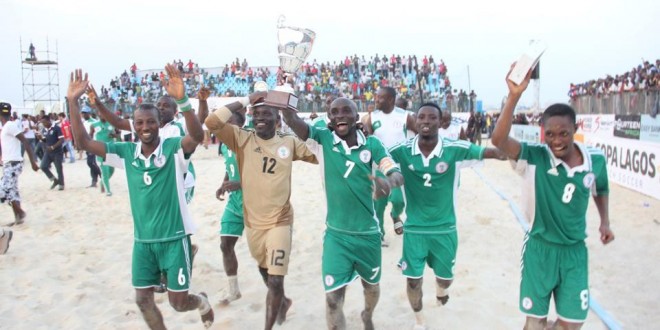 Nigeria's Minister of Youth and Sports, Solomon Dalung has commended of the 2016 CAF Beach Soccer Cup of Nations to be held in the country.
Dalung, who spoke after the committee made a presentation to him in his office in Abuja, hailed the commitment, of the committee members to task ahead of them.
He said, "That is why it is always advisable to select the right people into any committee. I commend you for coming here before starting the marketing of the event. Beach soccer is big business. We urge you to mobilize Nigerians effectively to embrace beach soccer."
In the same vein, Chairman of the committee Seyi Akinwunmi, who is also NFF 1st Vice President, said the committee had concluded plans to use the tournament as a platform to showcase Nigeria sports and expand beach soccer nationally.
He said, "Beach soccer is the fastest –growing sport in the 21st Century. We want to have a world –class event that will do Nigeria proud. As soon as we leave here, we will hit the ground running with regards to our marketing plan."
The second edition of the Africa Beach Soccer Cup of Nations will be hosted in Eko Atlantic Beach, Lagos from December 13-18.
Read more: http://www.tv360nigeria.com/dalung-commends-2016-beach-soccer-afcon-committee/