A Race for Cycologists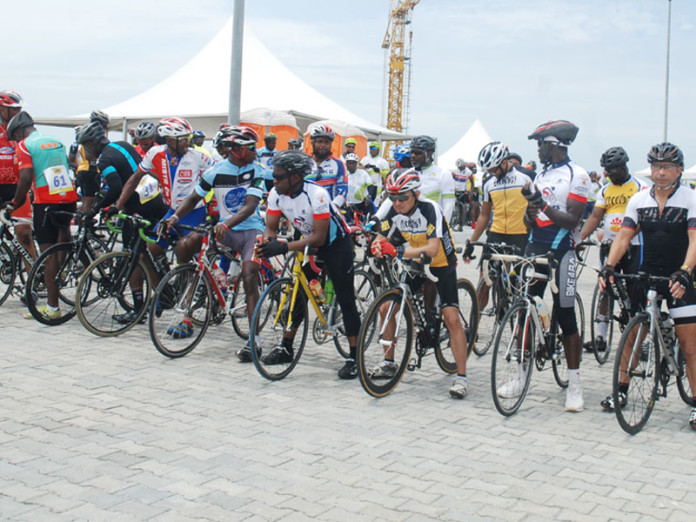 Cycology Riding Club, a foremost recreational cycling club in Nigeria, last Monday held its first Lagos Criterium race at Eko Atlantic City. Peter Uzoho who was there, reports that the event which took place in a convivial atmosphere, also produced champions in different categories
Monday was simply unforgettable! Being a public holiday, many families trooped out in their hundreds to Eko Atlantic City, venue of the first Lagos Criterium race organised by Cycology Riding Club, to relax and have fun with friends. Other people who came from different parts of the country were there to witness it first-hand.
The organisers put in place adequate measures to ensure a smooth outing. Right from the main entrance gate along Ahmadu Bello Way, Victoria Island, conventional police and other security outfits were stationed there to ensure that both vehicular and human traffic were orderly; coaster buses were also stationed to convey visitors to the venue.
As visitors arrived the designated car park, another set of well trained security personnel ushered them into the main cycling competition ground. Echoes of songs from popular Nigerian artistes rent the air from inside the massive construction site overlooking the Atlantic Ocean. Although it was sunny all day, the air from the beach helped to cushion the effect of the heat.
On arrival on Sunday, participants were given their race packs. There was optional warm up session as they cycled round the circuit in readiness for Monday'sevent. They also used the opportunity to get acclimatised with the environment and make new friends.
The sponsorship Secretary, Cycology Riding Club, Mr. Nike Adeniyi, told THISDAY before the Monday event that they were looking forward to having an extremely competitive cycling event.
"We're looking at having an extremely contestable cycling event as you can see a magnificent set up here. We're expecting to have series of competitive events: two professional races, male and female, and recreational rider races. In particular, the professional riders are coming from seven states in the country, namely, Lagos, Rivers, Bayelsa, Delta, Ogun, Plateau and Kaduna," Adeniyi said.
"This is the first ever cycling event that we've hosted in this state. We have more than two million naira to grab in prize money for professional riders as well as winners certificate. The major benefit for the riders beside the prize money is the opportunity to compete. Our riders are professional cyclists who spend all the year training heavily in order to improve on their racing skills and techniques. So they have a very good opportunity to compete in a high level race in Lagos as well as on the world level," Adeniyi added.
Some of the cyclists who spoke to THISDAY expressed their optimism to emerge victorious at the end of the competition.
Tommy Emmanuel, 28, a professional rider from Cycling Club 12, Lagos, said he hoped to clinch the covetous first prize. "Well, we're here to compete. By tomorrow we'll see as everything goes. But I'm hoping to come first by the grace of God."
For Nelson Bassey, 30, Captain of Rivers State Cycling Association, "it will be a great thing because this is the first time to do something like this here. We know that something good will come out of it when the event starts tomorrow (Monday). I've been cycling for almost 12 years, so it's no longer a new thing to me. They said there is N200, 000 for grabs as first prize and we're targeting that. We don't hope to get anything less than that. We're the giant of Nigeria when it comes to cycling."
"We expect victory. We want to win the first position, though in cycling you don't always predict because it's a highly technical sport. You might be the strongest, but lack of technical issues can make you a loser. To win, you need energy, techniques and your bike must be in good condition," Abaka Kurotimi, a Delta State cyclist said.
Saviour Udom, 18, a female professional rider from Team Rivers said though the competition would be a tough one, she was confident of winning the first position. She however pointed some areas that seemed threatening.
"I'm winning tomorrow. Though, it's going to be a difficult one. As you can see, the ground is so rough, there is going to be a lot scratches because of the sharp curve here. And this place is bar beach; the wind itself is a threat to us. So it takes a very strong rider to survive on this kind of track. But we pray that God will help us to ride here without any problem", she said.
On his part, Mohammed Sule, Chief Coach of Plateau State Cycling Association said, "We're here to compete in the Lagos State 2016 Cycology Criterium Championship. This is the first edition. Definitely, we are prepared for it; we expect nothing less than a victory. I came with a very competent team, so we're going home with the coveted trophy."
Commenting on the level of organisation of the event, he said, "The organisers have done marvellously well in terms of arrangement put in place, feeding, transportation and accommodation. It has been long that an organisation is doing something like this. So we're really happy about the event," Sule noted.
Monday saw the congregation of 13 clubs and state teams from across the country participating in the first Lagos Criterium race. Races were flagged off by important dignitaries such as Special Adviser to Lagos State Governor on Sports; Mr. Deji Tinubu, CEO Etisalat Nigeria; Mr Mathew Wilsher, and CEO Bridge Clinic, Dr. Richard Ajayi,.
The event, hosted by Mr. Dan Foster, had its share of drama with spectators actively involved by motivating performers with their loud cheers. In the course of the race, some participants withdrew as they fell and sustained injuries and unavoidable crashes. A quick emergency response team was present attending to the victims, administering first aid treatment to them.
Others were automatically disqualified due to the breakdown of their bikes, a shock they responded to with long weeping. As the race was going on, most children were at the bouncing castle having fun with their peers under the surveillance of their mothers and caretakers. The adults visited sales points around the venue, where all manner of fast foods and drinks were sold. There was musical sound coming from all corners as DJs were on ground to entertain people and put more life to the scenery.
The ladies race saw veteran amateur riders push side by side with their professional counterparts, with Ms Neller Henglster from Austria, being the eventual veteran winner.
In the ladies' professional category, Rita Aggo from Team Rivers State was the unassailable champion, leaving her team mate, Tombrapa Grikpa to fight for the second position, which she took from Caroline Dung from Plateau State.
The men's final was not as clear-cut, reminding all spectators that it's not over until you cross the finish line. Nelson Bassey (aka the cobra) from Team Rivers State showed his ultimate skill as he battled with Henry Chibuzor from CC 12 Lagos right to the finish line. The cobra crossed the finish line a split second ahead of Henry snatching the grand prize of N200, 000. All first place winners received N200, 000 with second place receiving N140, 000 and third place received N100, 000.
Cycology Riding Club, in a bid to reward sportsmanship, provided other prizes for the participants which include; Best All Round Performance award for male and female professionals, won by Team Rivers State; award for the Most Inspiring Performance for the male went to Innocent Emmanuel, CC12 Lagos, while that of female went to Jacinta Okorie of Kaduna State Team and Amina Adegboro of Abuja Wheelers. Award for Fair Play for male professional went to Sunday Musa of Kaduna Team. Award for Team Spirit (male) was won by CC12 Lagos, while female award went to Plateau State Team.
The winner of the male professional category in the competition, Mr. Nelson Bassey, 30, from Team Rivers State who couldn't hide his joy said "I feel happy, I feel so excited. This has added to my trophies. I feel really great." Bassey commended the organisers and sponsors for a job well done.
"Great thanks to them. I give them all the kudos; they have done a good job. We thank the organisers, the sponsors and everybody. We wish that this kind of thing continues".
Speaking at the end of the competition, Chairman, Lagos State Sport Commission, Deji Tinubu said, "The event has been an interesting one. It was all-inclusive, it doesn't have to be only the enthusiasts that would be coming here; people are coming, families are coming because they are interested in what has been happening, they are interested in the scene and the ambience. It's things like this that Lagos State need.
"With events like this in sports, I believe we're in the right direction. The organisation has been really good. Because of the weather, we started late. But I thank God that the organisation has been good. It's been a family day out; families have come here, and there have been food to eat, drink and everything. People are comfortable. So the subsequent ones will be better; we're going to bring in riders from outside the country to come and compete," Tinubu added.
Cycology Riding Club which was founded in 2011 by eight founding members, was established to promote cycling both as a healthy lifestyle choice and as a sport.
The club which has about 180 members from over 20 countries including South Africa; Austria; Ghana and Japan, in the last five years has become a recognisable group on the roads of Lagos on Saturday mornings. The members are mainly high-level private and public sector executives and business owners, both male and female, all love the sport of cycling and are keen to encourage more people to take up this healthy lifestyle.
Members of the club have ridden in many parts of the world – riding in neighbouring Ghana, as well as at the Cape Argus Tour in Cape Town, South Africa. Some of them just finished taking part in the GranFondo in New York last weekend while others are off to Wales next week. A lot of these events were started by local cycling clubs like Cycology to bring the joy of cycling to more people.
Read more: http://www.thisdaylive.com/index.php/2016/06/03/a-race-for-cycologists/